Contraste Europe expands its Data & Analytics service offering with data virtualization and Denodo Technologies solution.
According to Gartner, "By 2022, 60% of enterprises will implement some form of data virtualization".
What is driving organisations today to take a closer look into the technology that adds a virtual layer between the company's data sources and the tools for consuming them?
When and why will you need a data virtualisation solution? Why did our experts select the Denodo platform?
We take a look back at what led us to extend our offer to meet the needs of our customers in all sectors.
What is data virtualization?
Data Virtualisation decouples data storage from data consumption. This offers faster access to fresher data, while reinforcing its governance and security. This is invaluable in the current context. Unlike the traditional approach, Denodo does not replicate data. It is a matter of going and getting it on demand where it is. This can be in traditional databases, data warehouses, ERPs, data lakes or in the Cloud. This allows the data to be combined, structured and presented either directly in visualization tools (such as Qlik? PowerBI or Tableau) or via APIs to be used by other applications or portals.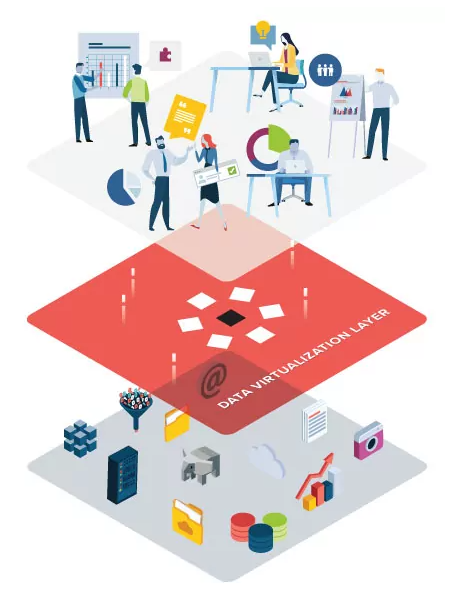 Increasing data complexity
It can no longer be denied that all companies are faced with increasing data complexity.
Mix of old and new data
Multitude of different data structures
Generated and integrated data, from batch to real time
Traditional data from enterprise applications, the web, third parties
New data sources from machines, social networks, IoT
In light of this situation, we are also see a multiplicity of data management solutions. There is a mixture of in-house solutions, vendor-built solutions and open-source solutions. They are based on multi-platform, distributed and heterogeneous architectures (on-premises or in the cloud, from relational to Hadoop). In short, a hybrid and extremely diverse context.
With data partitioned in separate systems, companies can only access the different systems manually. This results in slow response times and reduces productivity. In this context, IT can only respond through point-to-point data integration and replication.
Meeting current business requirements
Many of our customers face these challenges. That's why Contraste Europe wanted to offer a technological solution with Denodo's Data Virtualization platform. Complemented by the expertise of our consultants to support its implementation, this new service gives our customers access to a profoundly modern approach to data management.
> Accuracy of data
You can use all available data resources, the information is complete, as close to reality as possible. You can access it in real time from different applications and devices. You can confidently adopt predictive and prescriptive analysis.
> Agility and time to market
Without a doubt, it reduces time to market (TTM) and time to data (TTD). Self-service strategies are strengthened and IT bottlenecks and shadow IT are reduced. Data Virtualisation better supports business processes.
> Governance & Security
More globally, data governance and security are two strengths of the Denodo solution in that it allows you to centrally define who has access to what data in a "Role Base Access" approach. In addition, all access to data can be traced (GDPR)
> Cost reduction
Who doesn't want to reduce their operating costs and the operational costs of data management? Data virtualization will even allow you to switch to less expensive data management techniques where possible.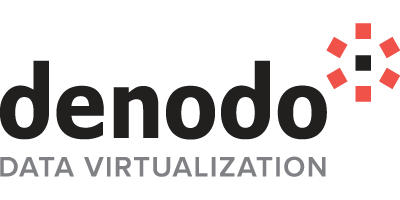 With Denodo and our extended service offering, we enable our customers to align IT with business objectives, while making considerable savings in both cost and time.
As part of the partnership with Denodo, our team is trained in the solution and its developments. The consultants also pass certifications guaranteeing a high level of quality in the services offered.
We advise companies upstream, in particular with advice on data governance and we support them in the various phases of the implementation of the Data Virtualization platform.