Drupal has just unveiled a new version of its content management platform. Several features have been added to enrich the CMS : a simplified installation process, taking up remote media, more stable updates for unilingual sites and an enhanced user experience.
With the biggest update yet of its Drupal version 8 platform, the open source business solution continues to come up with significant improvements, this time stressing the ease of use for technical and marketing teams.
Integration of remote media and a reimagined media library
A stable medium specifically designed for remote media has just been added to the Drupal 8's feature set. A new medium, remotely preconfigured, now allows for the inclusion of YouTube and Vimeo videos.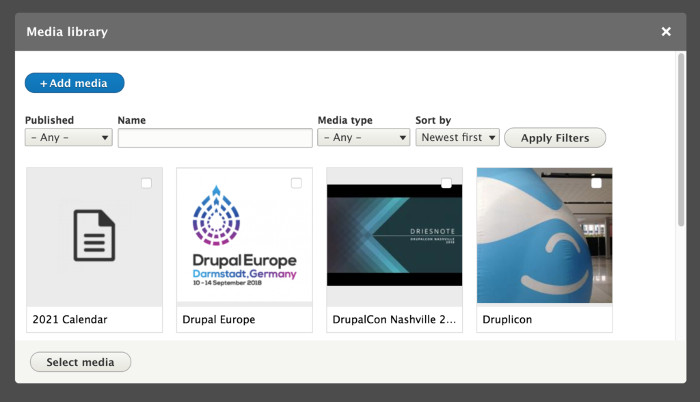 Based on a new experimental module, it is easy to run through the existing media and to swiftly add to their number with the aid of an integrated widget. Moreover, you can also add several media at the same time.
Demo system
Drupal presents a modern take on preparing website launches. Based on a demo of a fictitious cookery site called Umami, numerous features such as modelling, referencing and the content moderation are available to facilitate getting to grips with the solution.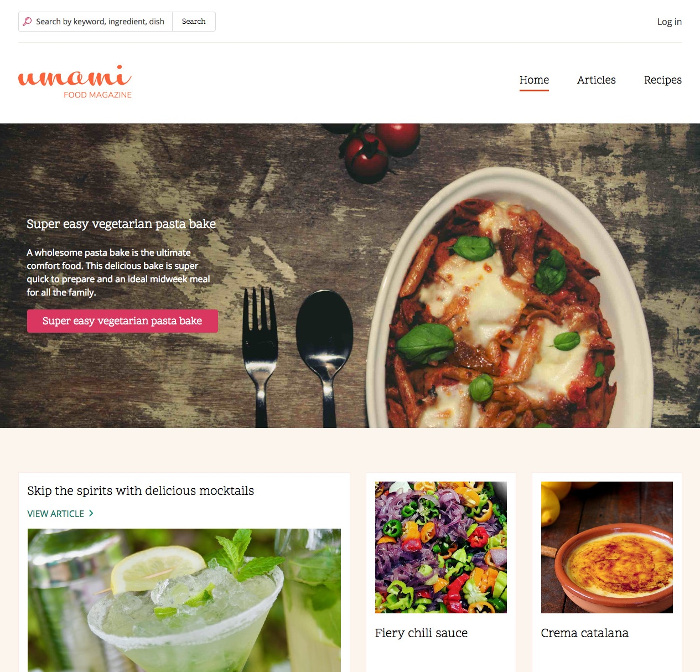 The future versions of the Umami demo will come with multilingual facilities and, as they become stable, things such as media management, page lay-out, etc.
New module for working areas
The existing content moderation feature is ideal when you need to move content one by one by way of an amendment or approval work flow. For instance, being able to specify the roles of all parties involved, and the progress of the works (drafts, archives, publications).
When large amounts of content (hundreds or even thousands) need to be examined and rolled out at the same time, this intuitive user interface is a highly valuable aid to validate batches of content all in one go.
Improved trial layouts
Drupal's Layout Builder module allows users to personalise the display windows (full screen mode or per search result). Rather than defining the arrangement of the fields one by one, templates with dynamic sections are available that are can be customised for personalisation purposes.
The improved Layout Builder now also enables users to create single blocks specific to the landing pages, which makes it a lot easier to include an offer, a download or a special deal in a landing page.
Stable Updates for unilingual sites
Support for the migration of old unilingual sites to new updates is facilitated thanks to Migrate Drupal, for complete upgrades of the old versions, and Migrate Drupal UI for upgrades of the user interface.
For the multilingual sites, the migrations are still in the experimental stage in Migrate Drupal Multilingual which also includes translations starting from Drupal 7.
New installation process
To facilitate the installation of a development environment, a quick-start feature is included, which only requires the system to contain the PHP language. Using the integrated PHP web server and the SQLite data base makes it easy to configure Drupal thanks to a "ready to use" browser.
Users can now also create back-ups of existing configurations so as to facilitate future installations, which makes it possible to locally rebuild a site without its content.
It is worth noting that Drupal 8.6 takes up MySQL 8 as a language, which incorporates several performance enhancements.