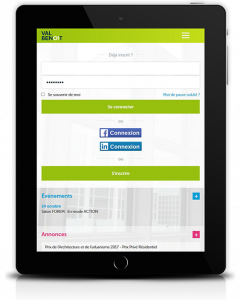 The customer
As a development agency for the province of Liège, the SPI facilitates the establishment of businesses and the promotion of its business parks and business premises.
Val Benoit is a business park in the Liège area, for which we conducted a special project, as the SPI was looking to turn the premises into a space for living, work, transit and training, and to create a dynamic ecosystem to facilitate the synergies between different audiences (businesses, students, local townspeople).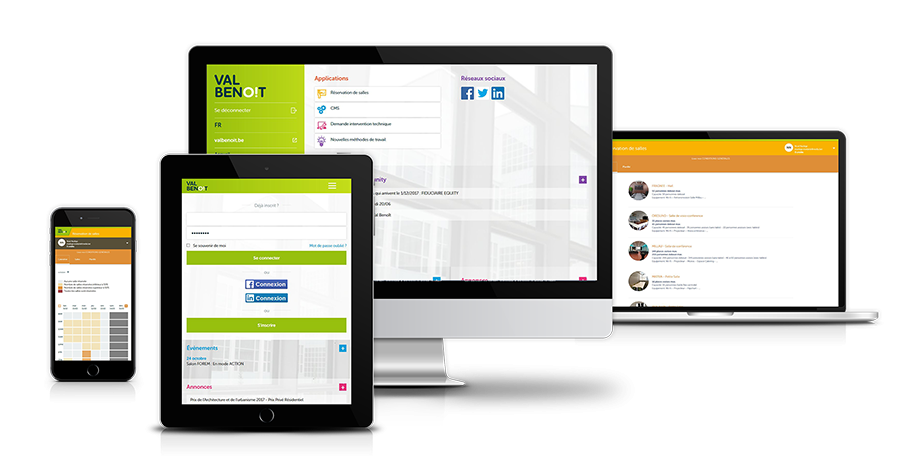 The project
The SPI was keen to create a new dimension in services for businesses. Setting out from the principle that small or start-up companies face the same challenges and the same kinds of needs as large corporations, yet without having the latter's means and resources, Val Benoit wants to make life a little easier for them by providing various services and synergies between actors through the portal.
Contraste's involvement as part of this project was twofold: for one thing, there was the implementation of a captive portal at Val Benoit's premises and the creation of a web portal for another.
Challenges
One of the main challenges was to align the vision of management and to put in place a single coherent position, based on pragmatic reflection. As part of this project, various new issues cropped up relating to the digital angle, which led to changes in the project's general direction.
Another challenge was to step away from corporate communications in order to embrace digital communications(simplification of messages, getting to the heart of the matter, etc.)
Lastly, the entire solution had to be implemented in less than three months' time, during the summer season.
Solution
The Val Benoit project enabled the SPI to explore its ideas on digital strategy in greater depth..
The benefits offered by the solution implemented include :
Secure access to the resource network, by way of a protected authentication system;
A platform that unites and brings together the various users at a central point ;
The implementation of a service portfolio, to be padded out in times to come.
The experience of dealing with centralised information (service life of the site, the members, potential synergies), which will act as a stepping stone for the SPI to take things to the next level.
Approach
To meet the SPI's requirements, Contraste implemented a twofold solution :
A captive portal, through which the Val Benoit site's Wi-Fi system is managed, along with authentication and access control, user management, authorisation management in consideration of user profiles, etc.
A web portal that enables :

Management of the portal's content and its back office.
Booking meeting rooms in synch with the agendas of the SPI, management of the associated services (resources, catering, etc.), and the billing of these various services.
A voucher system to book the conference room
An extranet section for the Val Benoit members.
Automated reporting to the directors.